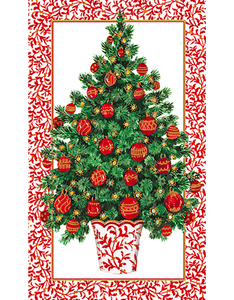 Caspari Decorated Tree Paper Matchbox. Keep your matches within easy reach for holiday candle lighting with this beautiful Christmas decorated box, no need to shove in a drawer.   Perfect hostess gift with or without a candle.  Great stocking stuffer!
Caspari Decorated Tree Christmas Match-Box With 40 Match Sticks in Paper Matchbox. In this Design: The classic Christmas tree gets an added dose of elegance with a pretty pot and delicate border of scrolling painted vines. Printed with designs and artwork from artist and museums around the world, Caspari's assortment of decorative match boxes are lovely when displayed anywhere in the home. The boxes are made from durable cardboard and contain forty 4 inch long matches. The tips of the matches are charmingly color coordinated to match the design of their box. Boxes feature a match lighting strip.
Size: 4 inch match sticks. Match Box Size: Approx. 4.5H x 2.5 x .75 Diameter inches.
Match Box contains 40 - 4 inch Matchsticks with colored tips that coordinate with the design.
Easy to Light.
Printed on decorative durable cardboard matchbox gift box with strike area on side.
Artist or Collection: Barbara Wilson.