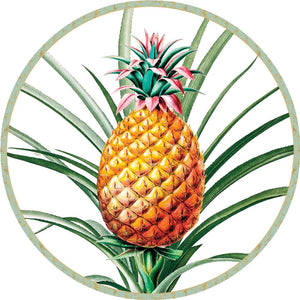 Caspari reusable die-cut placemats are handmade in the USA. As a part of our Gallery Collection, they are crafted in our Connecticut bindery, which incorporates the same artisan skills used in centuries past to create beautiful & high-quality handmade goods. Made of durable vinyl coated paper, our placemats coordinate perfectly with the existing palette of Caspari colors and tabletop designs. They are a perfect addition to your special occasion tabletop design or as an everyday table accessory. To clean after use, wipe with a damp cloth.
Handcrafted in our Connecticut bindery for the highest quality and attention to detail.
Each placemat measures approximately 14.5" in diameter.
In this design: Pineapples are known to be a symbol of welcome and hospitality. This pineapple design possesses a clearly classic style but is modernized through its bold colors.
**MUST BE PURCHASED IN MULTIPLES OF TWO**